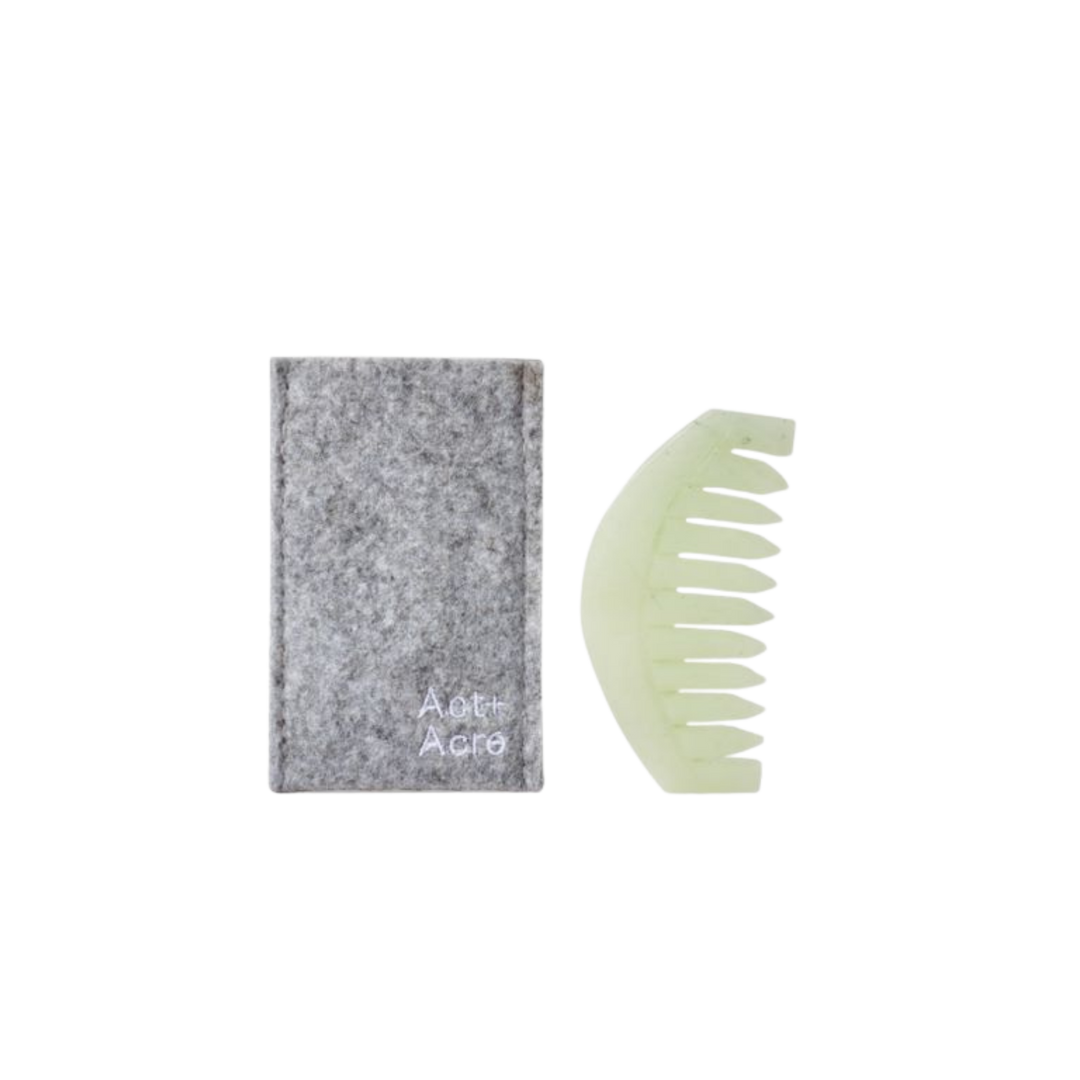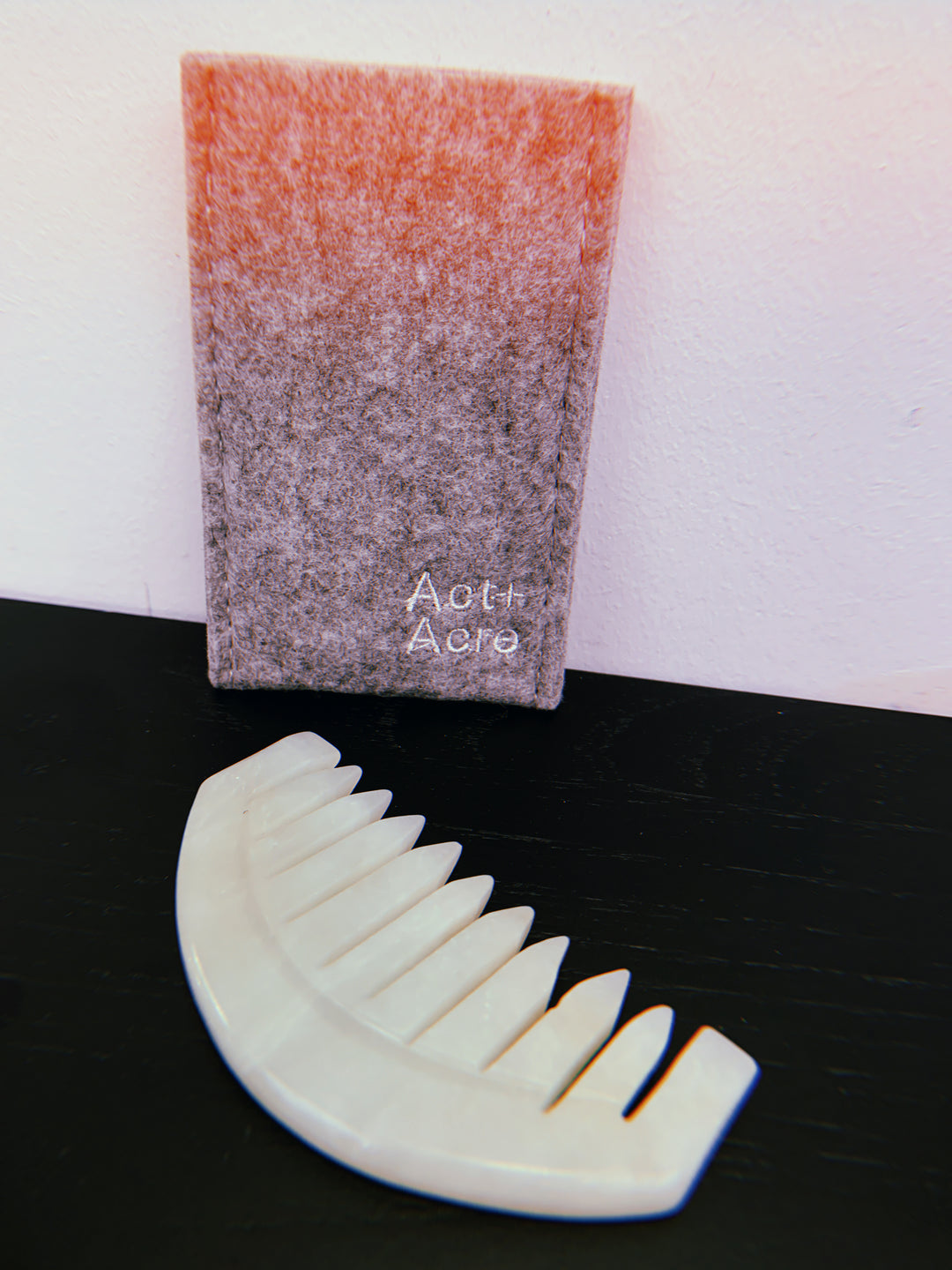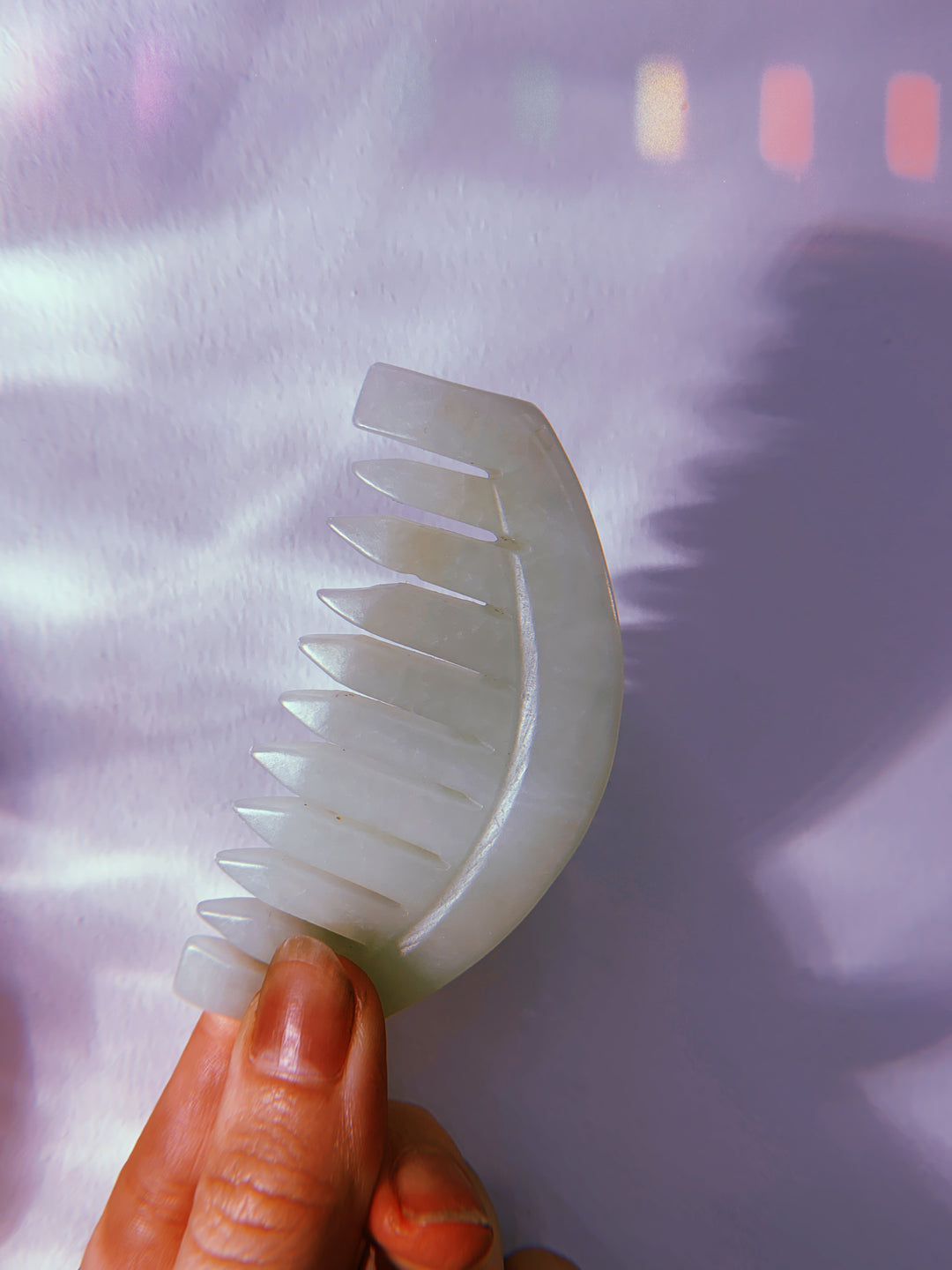 Cut from natural jade stone, this comb helps ingredients penetrate more deeply and efficiently into the scalp, while promoting microcirculation and relaxation.
Regular price
$64.00
$64.00
Low stock - 4 items left

Inventory on the way
Individually hand-cut from natural jade stone, the Scalp Gua Sha is designed to be used together with the Cold Processed® Scalp Detox to enhance your ritual by stimulating and nourishing the scalp and stands.  
The Gua Sha comb works to gently stimulate and massage the scalp while also delivering key nutrients from the Detox into the deeper layers of the skin.
What it's for
+ promoting new hair growth by increasing blood circulation
+ increasing product absorption and cutting down on developmental time 
+ increases hair thickness by stretching the cells of the hair follicles
+ releasing tension, tightness, and promoting relaxation to soothe the scalp
On dry hair - section hair and apply a few drops of Scalp Detox.
Massage onto scalp by gently combing Gua Sha in long strokes across head.
Let sit for 10 minutes, then rinse with cleanse and conditioner.
SCALP GUA SHA FAQ:

WHAT IS THE SCALP GUA SHA MADE OUT OF?
Made from 40 naturally-formed minerals, the Act+Acre gua sha will come in variety shades of green. Opting for the natural Jade Gua Sha comb, rather than flimsy plastic alternatives you can help cut down on single use plastic.

DO I HAVE TO USE THE GUA SHA TOGETHER WITH SCALP DETOX?
Using the gua sha helps the oil to penetrates into the scalp better, promotes microcirculation, and adds a touch of relaxation during your weekly scalp detox. However, the gua sha can be used anytime whenever you feel like you need a little TLC.

GENERAL FAQ:

IS ACT+ACRE SAFE TO USE?
Yes! All Act+Acre products are sulfate-free, silicone-free, paraben-free, vegan, gluten-free, cruelty-free, and non-GMO.

ARE ACT+ACRE PRODUCTS SAFE FOR CHEMICALLY TREATED HAIR?
Yes! Whether your hair is bleached, dyed, permed, keratin-treatment or chemically-straightened, you can still use Act+Acre products.

CAN YOU USE ACT+ACRE PRODUCTS IF YOU HAVE HAIR EXTENSIONS?
No, you should not use Act+Acre products since most of their products are rich in essential oils and oils weaken the glue in your extensions.

CAN ACT+ACRE PRODUCTS HELP WITH HAIR GROWTH?
Yes, especially the Scalp Detox and the Apple Stem Cell Serum as they contain naturally stimulating that promote hair growth.

CAN YOU USE ACT+ACRE WHILE PREGNANT?
Yes! According to Act+Acre's website, new moms are IN LOVE with the Scalp Detox as it helps minimize postpartum hair loss.

ARE ACT+ACRE PRODUCTS ENVIRONMENTALLY FRIENDLY?
Yes! Act+Acre bottles are made from PETG1 plastic, which is the highest grade of plastic available. They also use 90% less energy during their production process thanks to the Cold Processed Method.

MY HAIR IS GETTING OILY, AM I DOING SOMETHING WRONG?
Not to worry— this is a quick fix! Because Act+Acre products are quite concentrated, you may need to add a bit of water to the cleanse before applying it to your hair.

Use 1-2 pumps of the cleanse into your hand and add water to it. Rub this together in your hands and emulsify (the more bubbles the better!) before applying.

Rinse + repeat this process. You will notice a stronger lather during your second cleanse and a more weightless finish once complete :)

MY HAIR IS GETTING DRY, AM I DOING SOMETHING WRONG?
Not to worry— this is normal! Because Act+Acre products are silicone-free, you may need to add a silicone-free hydrating mask once a week like the Restorative Hair Mask.

There is an initial transition period that can take 5-8 washes. If you feel you need more hydration with your daily wash. We recommend mixing a small amount of Restorative Hair Mask with the Conditioner.





Female Owned

Carbon Neutral Brand

Clean Beauty