Plant Based Hair Capsules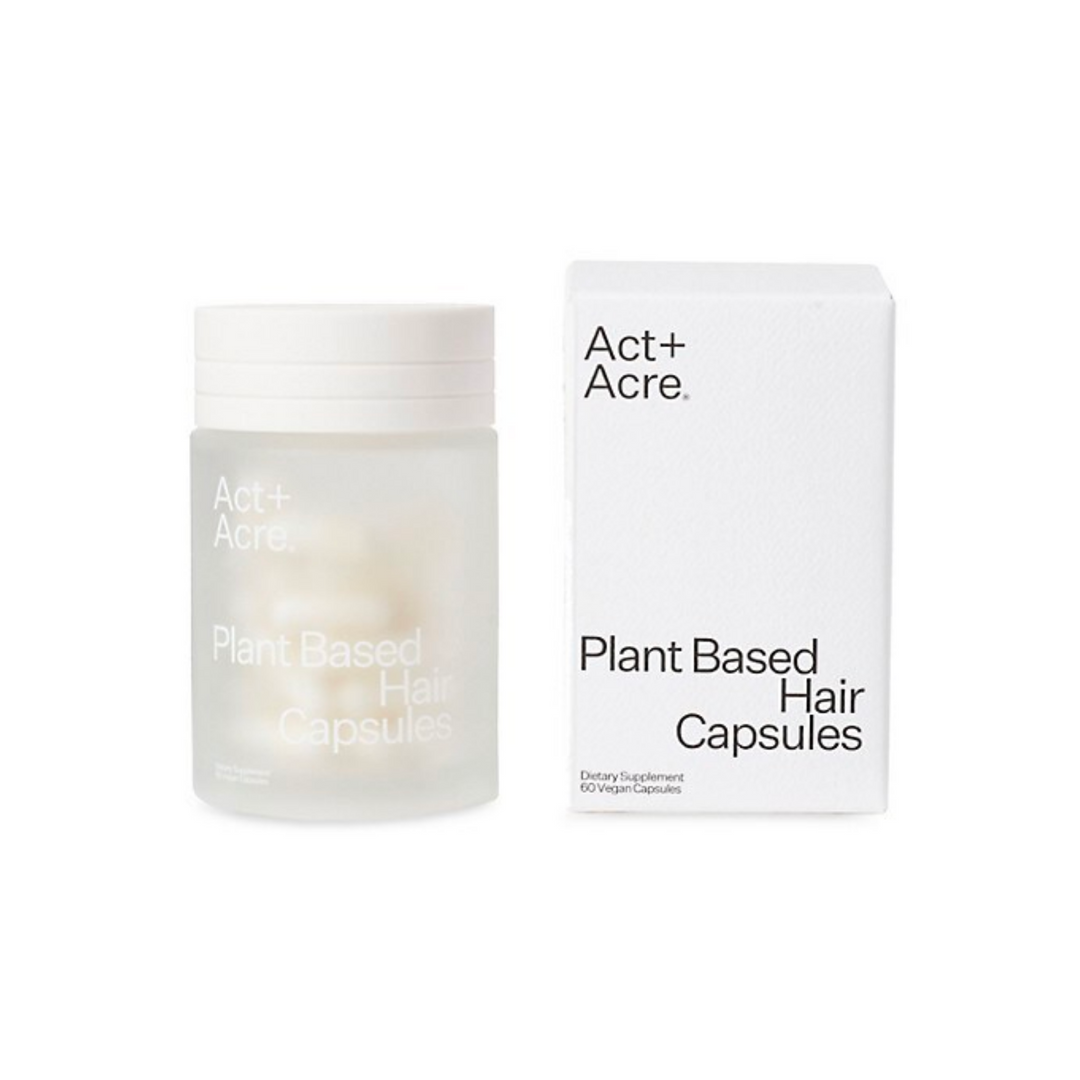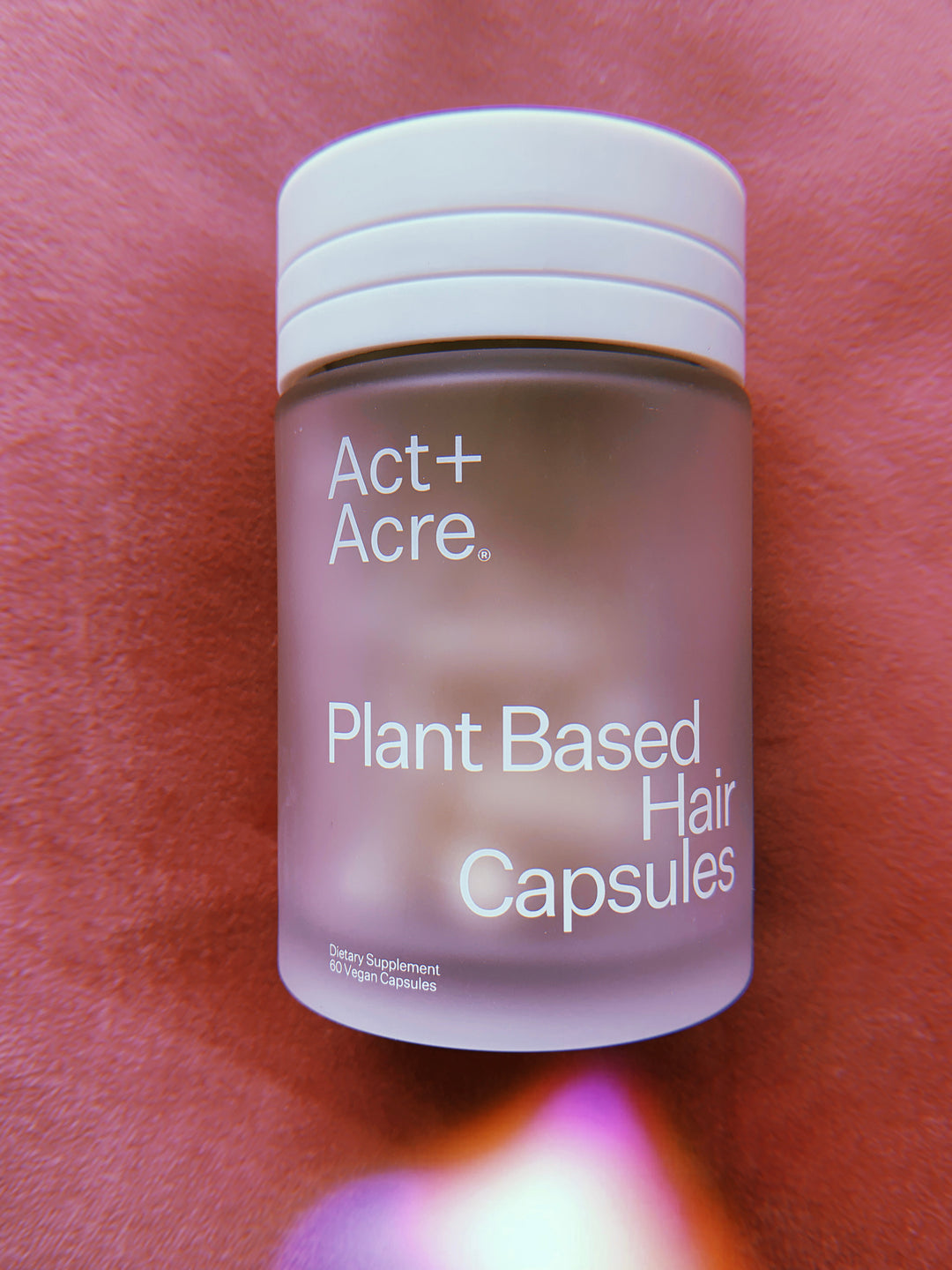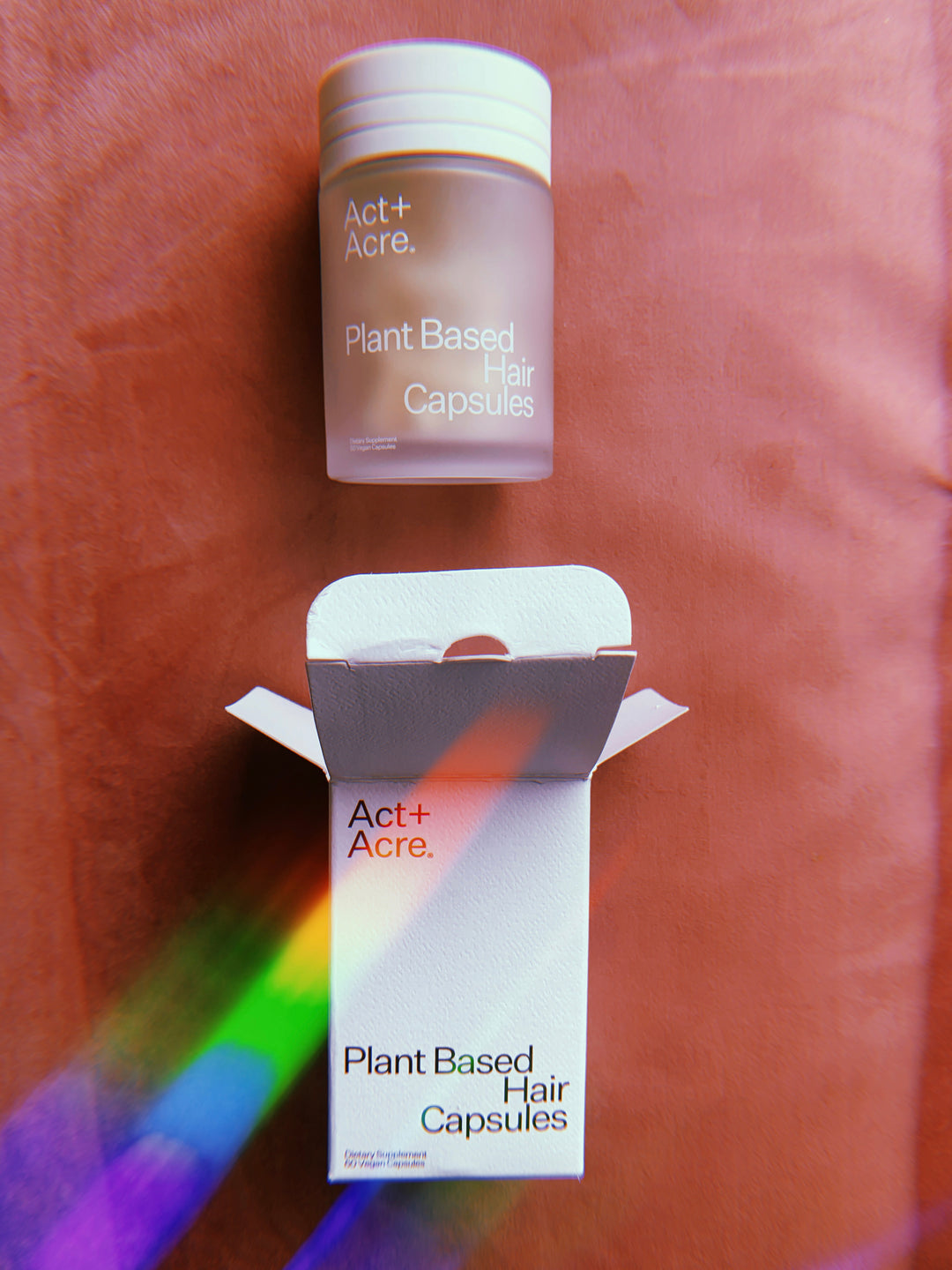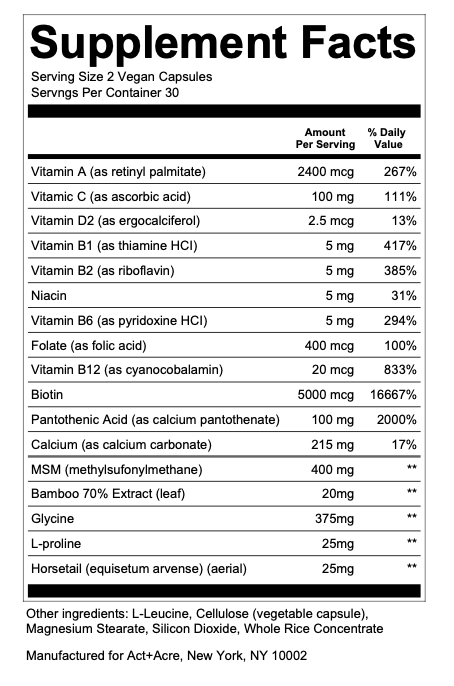 Plant Based Hair Capsules
Scalp heath capsules formulated with key nutrients including Bamboo and Horsetail Extracts that work to improve hair growth, visible thickness, and strength.
Regular price
$51.00
$51.00
In stock, ready to ship

Inventory on the way
Food for your hair follicles. Act+Acre Capsules offer targeted nutrition to strengthen and support overall hair health through nutrient-packed supplements. Noting the detrimental impact of everyday stresses from poor nutrition on hair health, these formulations step in to rebalance the key vitamins a majority of individuals are deficient in.

The result is healthy hair from the inside out, invigorated by a blend of plant extracts, vitamins, and amino acid. All vegan, all natural, always.
Why it is different
+  The hair is an ever-evolving vessel. As one of the fastest growing tissues in the human body, just about 90% of scalp hair is actively growing with an average daily growth of 35 meters per day. If the body lacks nutrients, it intuitively redirects the flow of nutrients from the hair to other parts of the body, resulting in an evident shift in hair health.

+  A+A Capsules are designed to be used in tandem with a healthy diet to ensure optimal results. The supplement specifically looks to nutrients as an avenue for strengthening hair follicles and uses ingredients that provide cellular support.

For all scalp and hair types, especially those with weakened or thinning hair and fallout.
Take two capsules daily, for up to 90 days, ideally with food and watch your hair come back to life.
Healthy strands from the inside out.
Vitamin B12 — promotes healthy hair growth by assisting in the production of oxygen-rich red blood cells, which feed hair follicles.

Bamboo and Horsetail Extracts — rich sources of silica add volume and shine

Vitamin C and Amino Acids — synergistically support collagen production to fortify hair

Biotin — promotes a healthy and consistent growth cycle
HAIR CAPSULES FAQ:

WHAT MAKES THESE SUPPLEMENTS UNIQUE? WHY SHOULD I TAKE THEM?
The Act+Acre Plant Based Hair Capsules are unique as they have been specially formulated to support hair growth and overall hair wellness. The formulation of plant extracts, vitamins, and amino acids increases collagen, keratin and elastin levels in your body, promoting hair growth, resilience, and visible strand thickness. We encourage you to take these capsules if you are trying to promote hair growth and sustain overall wellness. Due to the nutritional content of the capsules and how they interact with the body, they work well for those with thinning or brittle hair.

HOW LONG WILL IT TAKE FOR THE CAPSULES TO WORK?
Different vitamins play different roles in an individual body, resulting in different responses. Vitamins will only be effective if taken consistently and as part of a balanced diet and lifestyle. Research shows that you should experience benefits with the Act+Acre Plant Based Hair Capsules within as little as 30 days. However, we recommend taking these for a period of at least 90 days in order to reap the full benefits.

CAN I TAKE THESE CAPSULES WITH OTHER VITAMINS?
Yes, you can take these with other multivitamins, but we recommend taking them at different times. If you have further questions or concerns, we would always advise consulting your healthcare provider.

MY PLANT-BASED CAPSULES LOOK A BIT OFF-COLOR—IS THIS NORMAL?
100% normal– Act+Acre capsules are made without any synthetic fillers or dyes, so what you're seeing is natural. The ingredients may separate into their crystalline forms, making spots of the capsule appear cloudy or discolored, but this has no impact on the safety or potency of the formula

GENERAL FAQ:

IS ACT+ACRE SAFE TO USE?
Yes! All Act+Acre products are sulfate-free, silicone-free, paraben-free, vegan, gluten-free, cruelty-free, and non-GMO.

ARE ACT+ACRE PRODUCTS SAFE FOR CHEMICALLY TREATED HAIR?
Yes! Whether your hair is bleached, dyed, permed, keratin-treatment or chemically-straightened, you can still use Act+Acre products.

CAN YOU USE ACT+ACRE PRODUCTS IF YOU HAVE HAIR EXTENSIONS?
No, you should not use Act+Acre products since most of their products are rich in essential oils and oils weaken the glue in your extensions.

CAN ACT+ACRE PRODUCTS HELP WITH HAIR GROWTH?
Yes, especially the Scalp Detox and the Apple Stem Cell Serum as they contain naturally stimulating that promote hair growth.

CAN YOU USE ACT+ACRE WHILE PREGNANT?
Yes! According to Act+Acre's website, new moms are IN LOVE with the Scalp Detox as it helps minimize postpartum hair loss.

ARE ACT+ACRE PRODUCTS ENVIRONMENTALLY FRIENDLY?
Yes! Act+Acre bottles are made from PETG1 plastic, which is the highest grade of plastic available. They also use 90% less energy during their production process thanks to the Cold Processed Method.

MY HAIR IS GETTING OILY, AM I DOING SOMETHING WRONG?
Not to worry— this is a quick fix! Because Act+Acre products are quite concentrated, you may need to add a bit of water to the cleanse before applying it to your hair.

Use 1-2 pumps of the cleanse into your hand and add water to it. Rub this together in your hands and emulsify (the more bubbles the better!) before applying.

Rinse + repeat this process. You will notice a stronger lather during your second cleanse and a more weightless finish once complete :)

MY HAIR IS GETTING DRY, AM I DOING SOMETHING WRONG?
Not to worry— this is normal! Because Act+Acre products are silicone-free, you may need to add a silicone-free hydrating mask once a week like the Restorative Hair Mask.

There is an initial transition period that can take 5-8 washes. If you feel you need more hydration with your daily wash. We recommend mixing a small amount of Restorative Hair Mask with the Conditioner.





Female Owned

Carbon Neutral Brand

Clean Beauty